Opinion piece by Billy Mills, Biology Week intern at the Royal Society of Biology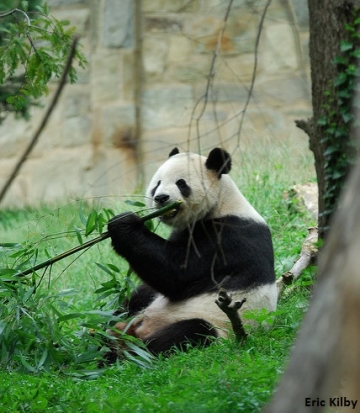 With the utopian goal of saving the world's species it is inevitable that nature conservation should be an uphill struggle. Having read the news recently you could be forgiven for thinking of it as an altogether worthless affair.
It was reported this September that over the last 25 years we have lost one-tenth of the world's wild places. A trend that if allowed to continue could lead to almost no places of true wilderness left on Earth. Closer to home we had the release of the State of Nature report, which stated that one in 10 UK wildlife species is at risk of extinction.
When I heard that an evening of post-Brexit discussion was taking place at the Zoological Society of London (ZSL) I anticipated more of the same, an evening hearing about the huge challenges that Brexit poses to UK wildlife conservation. Thankfully I was mistaken. Rather, this event emphasised that the UK scientific community is capable of informing political decisions on the environment and is eager to help. Professor Sue Hartley, President of the British Ecological Society, had a clear message: it is time to mobilise, not to mourn; opportunities to improve on what's been done so far exist, and this is the time to seize them.
Given this timely bout of positivity I felt it was appropriate to provide a quick note on a recent conservation success story.
The giant panda
A contentious debate exists in conservation as to whether we should really be saving the giant panda. The issue stems from the inordinate amount of time and effort, and the disproportionate amount of conservation funding, put into preserving pandas compared to other species. Opponents to 'panda-centric' conservation state that such resources would be better spent elsewhere.
Moreover it is commonly commented that the panda project is a lost cause; that pandas find themselves in an evolutionary cul-de-sac characterised by a refusal to have sex and a ridiculous bamboo-based diet.
Earlier this month however, the conservation status of the giant panda changed from endangered to vulnerable as part of an update to the IUCN Red List. This is partly because there are now an estimated 2060 pandas in the wild, a figure up from 1596 in a 2000-2004 census.
The reason for this success wasn't that conservationists provided pandas with videos of other pandas mating, used an apple on a stick to tempt males into the mounting position or offered them Viagra (yes, these have all been tried). Instead effective panda conservation involves habitat maintenance and restoration, and the recent success is due to efforts in creating and maintaining reserves that help protect bamboo forests.
In 1992 a panda reserve system was created to increase panda habitat. There are now 67 panda reserves in the country that protect approximately 5400 miles2, and it isn't just pandas that have benefited from these protected areas.
According to a recent study examining the distribution of China's endemic mammals, amphibians and birds, the panda's range overlapped with 70% of forest bird species, 70% of forest mammals, and 31% of forests. The upshot being that protecting panda habitat also helps protect a great number of other vulnerable species.
The World Wide Fund for Nature (WWF) Director General Marco Lambertini best summarised the scale of this success:
'Knowing that the panda is now a step further from extinction is an exciting moment for everyone committed to conserving the world's wildlife and their habitats'
'The recovery of the panda shows that when science, political will and engagement of local communities come together, we can save wildlife and also improve biodiversity.'
It can be all too easy to get down about conservation. For a movement that relies so heavily on public interest and engagement it is important to give voice to successes when they occur.
Making Brexit work for ecology and conservation science was organised by the Zoological Society of London in partnership with the British Ecological Society, the Campaign for Science and Engineering, the Royal Society of Biology and the Wildlife and Countryside Link.
ZSL research fellow, Dr Nathalie Pettorelli wrote a blog on the event, where you can also listen to the discussion.