by Gabriele Butkute, science policy assistant at the Royal Society of Biology and the Biochemical Society.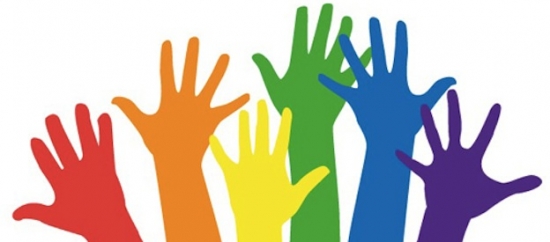 "I don't mind people who are gay; I just don't want that flaunted in my face". That's what Fran Cowling, one of the panel members at The Royal Society's event, Out in STEM was once told.
While unfortunately similar remarks can still be heard regarding LGBTQ (Lesbian, Gay, Bisexual, Transgender and Queer) people, most of the panel members said they had experienced a lot of support from friends and colleagues when they had decided to come out. They said they felt a sense of liberation as they no longer had to lead two lives and hide who they truly were. "Although I have encountered some isolated examples of unpleasantness, I can't say that my career has suffered any adverse consequences", writes Peter Coles, one of the speakers.
So when choosing to be out in the workplace or when studying – what influences this choice?
Role models and a supportive office culture are essential
The importance of role models in a workplace was mentioned several times (this of course applies to other areas too). Seeing senior colleagues who have come out and been accepted is tremendously encouraging. Management also have a responsibility to make it clear that harassment regarding sexuality (or anything else) will not be tolerated.
Samantha Jayne Nelson is Vice President of Marsh's Global Energy Risk Engineering Team. She is also transgender. One might think that being transgender in a predominantly male environment would present a particularly difficult situation but it doesn't have to. She came out when approached by her colleagues who already knew and were very supportive. "The joy of coming to work was restored", said Samantha.
Support networks
Being able to talk to somebody discretely about the issues that relate to sexual identity is a crucial part of feeling comfortable at work or while studying. Jamila Barrett, an engineer at Transport for London (TfL), had multiple minority identities in her workplace: being a woman, black and gay. Fortunately TfL provided various staff networks, including an LGBTQ group, of which Jamila became chair.
However, not all organisations are large enough to be able to arrange supportive networks or groups. However, as challenges faced are likely to be similar across a field, support networks can be arranged centrally rather than within a specific organisation. One such example is LGBT STEMinar which took place in January at the University of Sheffield. It was the first conference designed for people who work or study in STEM subjects and identify as LGBTQ. The Royal Society event in London was also the first of its kind. Clearly there is a need for these events and an appetite for more in the future. It is important not only to establish new networks but also highlight the existing ones, especially for those who may not have reached out previously.
The practical things that make a difference
I learnt about several practical things that can make life easier for those identifying as LGBTQ. For example, not using a gender pronoun: eg. instead of saying 'what does your wife/husband do?', we could simply say 'what do they do?'. You could also use gender neutral titles or provide unisex bathroom facilities. Technology could help to spread positive messages. The I'm Okay app is neutral in design (to make people feel comfortable using it in public). Via the app young people can access LGBTQ information and share stories and experiences.
WATCH: Sally Le Page, evolutionary biology PhD student at The University of Oxford and maker of  Shed Science videos, on her sexuality and why she thinks queer visibility is important in STEM:
Follow what happened on social media during The Royal Society event via the #OutInSTEM hashtag.
Read more about the Royal Society of Biology's work on Equality and Diversity.