By Jenny MacPherson, pine marten project manager, The Vincent Wildlife Trust.
Read blogs about the other mammals in the #UKMammalPoll and vote for yourFavourite UK Mammal.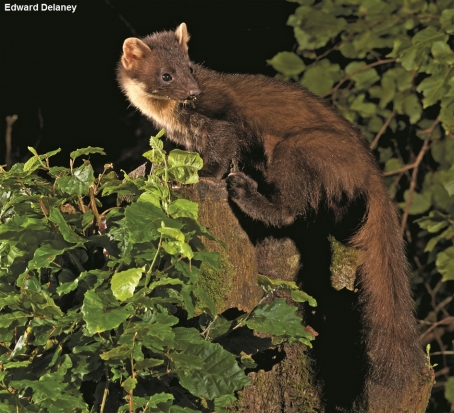 My first encounter with a pine marten in the wild was back when I was a first year zoology undergraduate. I was poised upwind of a badger sett with my binoculars, waiting for the badgers to emerge, when the most beautiful animal I'd ever seen crossed my field of view. It was a pine marten. It stopped, stood up on its hind legs and sniffed the air, revealing the characteristic apricot bib, and then went on its way. From that moment on I was hooked.
Since then I have been lucky enough to have many similar sightings of martens in Scotland but the thrill never gets old. When I mention pine martens, people often assume that I am talking about a bird, some forest dwelling relative of the house marten, however, pine martens are mammals. They belong in the same family as badgers (mustelidae) but, unlike their sociable cousins, cat-sized pine martens spend most of their time alone ranging over quite large, wooded territories that they defend against other martens.
They are carnivores but will eat whatever is most easily available and, not unlike myself, seem to have a particularly sweet tooth. In autumn marten scats (droppings) can be brightly coloured due to the animals having binged on fruit and berries such as rowan. They have also been known to visit gardens for the prospect of a jam sandwich or even an apple pie once they know it is safe.
There used to be pine martens right across the UK, but successive centuries of woodland clearance and predator control led to them becoming virtually extinct in England and Wales by the early 1900s, and confined only to the remotest parts of north-west Scotland. The Scottish population is now recovering well, largely due to increased afforestation and legal protection, but many years of research suggested that they were on the verge of extinction in Wales.
However, since 2014, I have been fortunate enough to be leading The Vincent Wildlife Trust's pine marten recovery project to reverse this, with help from our partners; People's Trust for Endangered Species, Chester Zoo, Woodland Trust and Wildlife Vets International. So far, we have translocated almost 40 pine martens from Scotland to suitable woodlands in mid-Wales to boost the struggling population there. Our radio tracking and other monitoring work suggests that the animals are settling in well and earlier this year we were rewarded with the sight of our first Welsh born pine marten kits. Pine martens are not fast breeders but now, given time, the Welsh population should start to increase and spread to other parts of Wales and across the border into England. This means that, not only will a key element of our native woodland ecosystem be restored, but also more people will have the opportunity of a personal encounter with this rare and special animal.
Read blogs about the other mammals in the #UKMammalPoll and vote for your Favourite UK Mammal.