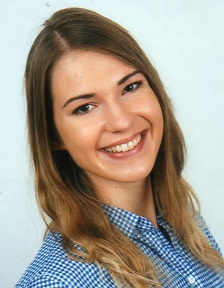 By Anna Holderbaum, Marie Curie early stage researcher at the Institute for Global Food Security at Queen's University Belfast
Staged at Belfast's historical St. George's Market, 'The Hungry Games' (February 2016) attracted young and old to learn about important facts and get advice about nutrition, not only in relation to the impact on our health but also our environment. In co-operation with the NI Science Festival, the Royal Society of Biology, the Biochemical Society, the Centre for Excellence for Public Health NI and Love Food Hate Waste, this two day event offered all-day drop-in activities for visitors, and was designed to inform about nutrients, health, portion sizes, environmental impact and how to reduce food waste.
Over the last decades, 'Western' diets rich in meat, fat, salt and sugar have increasingly replaced those based on whole-grains, fruits and vegetables at family mealtimes, in restaurants and supermarkets across Europe. This has not only led to a rise in obesity and associated health problems for our population, but has also brought important environmental issues to the forefront. Food production and transport are contributing to greenhouse gas emissions, rainforests are being razed in order to keep up with the insatiable demand for livestock feed. Excessive water use in irrigated agricultural areas, inter alia, is leaving freshwater systems dry.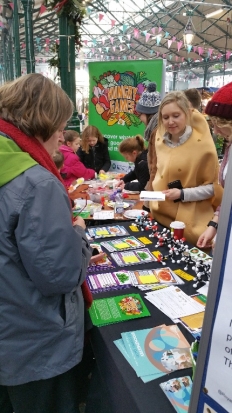 As climate change and the ever-growing global population are threatening food security, it is essential that we become aware of the importance of sustainable nutrition and its ethical, environmental and economic implications. According to the Food and Agriculture Organization of the United Nations (FAO) 'sustainable diets are those diets with low environmental impacts which contribute to food and nutrition security and to healthy life for present and future generations. Sustainable diets are protective and respectful of biodiversity and ecosystems, culturally acceptable, accessible, economically fair and affordable; nutritionally adequate, safe and healthy; while optimizing natural and human resources.' This is pinpointing that food choices that help to conserve our environment can be made in line with being healthy and affordable.
Under the Europe 2020 strategy, the flagship initiative Resource-efficient Europe supports the shift towards a low-carbon economy to achieve sustainable growth while using the Earth's limited resources in a sustainable manner with minimal impact on the environment. Science and technology are playing a pivotal role in overcoming barriers as well as identifying opportunities and enabling innovation in this sector. Researchers at the Institute for Global Food Security are actively working on food consumption issues and are conducting ground-breaking research developing technological advances to help assure food security and efficiency throughout the supply chain.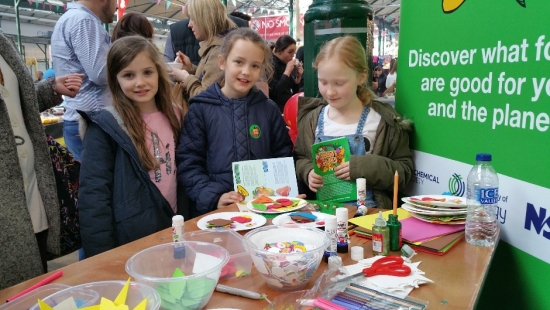 To conclude, by shining the spotlight on nutrients, health and our planet, the Hungry Games encouraged visitors to be part of the debate. Fostering informed decision-making regarding the food we buy will ultimately help to drive change and reduce carbon emissions. Furthermore, not only the products we buy, but also how we manage those matters. Reducing food waste not only benefits the environment, but also our purses. The implementation of simple routines, such as making shopping lists, planning your meal portions, making the most of the products you buy, trying new recipes, using up leftovers, utilizing storage and kitchen tools, can have a positive impact on many critical areas, from the family food bill, through food waste & landfill, to damaging effects of climate change.  Take action now and reduce food waste.
Read more about the Hungry Games in Cambridge and Belfast and take part in the Hungry Games at the Lambeth Country Show in July.