By Ben Connor, Policy Officer, British Ecological Society
Does the UK Government have a joined up strategy for teacher recruitment and training? According to Chris Waterman, speaking at the recent Education Policy Lunchbox, the simple answer is 'no'. Waterman, the former Executive Director of the Association of Directors of Children's Services (ADCS), whose educational experience includes work as a teacher, commentator and consultant, argued that this lack of strategy is leading to serious problems for schools and the teaching profession.
Under the Coalition Government, and continued by the new Conservative administration, the system of teacher training and education in the UK has undergone radical change. From a situation where teacher education was dominated by universities, schools have assumed centre stage. Roughly 50% of new teachers are now trained 'on-the job' in schools, through Teach First, which places 1,500 high achieving graduates in challenging schools, and the much larger scale and rapidly expanding School Direct.
As former Chief Inspector and Permanent Secretary to the Department for Education, Sir David Bell has argued the shift towards a school-based system of teacher training works against a systematic approach, as individual schools rightly have no need to take a national, or even regional, view of teacher supply. Yet universities are also prevented from taking this role, with caps on recruitment leading to uncertainty and a lack of ability to plan for the long-term. Chris argued that these problems are reinforced by some Government Ministers' bias against teacher training, illustrated by the fact that academies – which all schools will soon be – can employ staff that do not have qualified teacher status.
Furthermore, as Chris explained, this lack of strategic oversight of teacher education is reinforced by a lack of evaluation of the successes and failures of different training routes, and a lack of available data as to how many teachers are required, in which subjects and where. However, while the problem of teacher supply has until recently remained largely unacknowledged – and masked by the positive impact on recruitment of the recession – it is now beginning to rise to prominence.
In Ofsted's Annual Report, published on the 1st December, Chief Inspector Michael Wilshaw highlighted the crisis in teacher recruitment, stating that "weaknesses in teacher supply are having a material impact on the ability of schools, particularly those in challenging circumstances, to recruit the teachers and leaders they need". The report suggests that this problem is driven by a rise in the number of teachers leaving the profession and recruitment falling behind target, while on a local scale, location, school performance and intake are leading to staffing shortfalls for individual schools. The problem of teacher supply is particularly acute in STEM subjects, with science teaching in schools located in challenging areas suffering the most.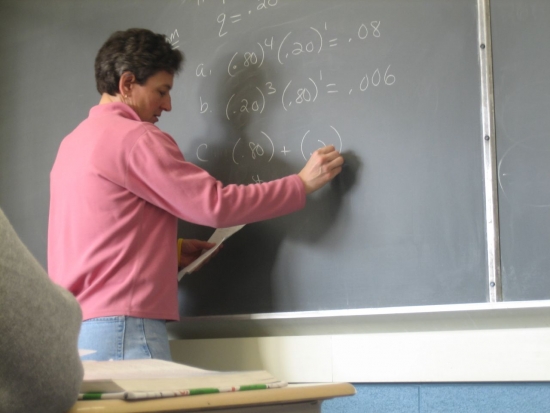 So how can these problems be addressed? In his Policy Lunchbox talk, Chris highlighted a number of short-term initiatives to deal with specific teacher supply issues, being developed through the TeachNext programme. These include maths conversion courses for teachers qualified in overstaffed subjects such as PE, working with training providers including the University of Warwick and the University of Reading, and an Initial Teacher Training programme for career changers based around a year-long secondment from their current employer.
However, it is clear that in the longer-term, the challenge of delivering adequate teacher training and supply must be addressed in a more comprehensive manner. Encouragingly, there is increasing political recognition of this issue. With the House of Commons Education Committee currently holding an inquiry into the supply of teachers, and a new All-Party Parliamentary Group for the Teaching Profession is soon to be launched, perhaps the problem of teacher education and supply will soon receive the attention it deserves.
Policy Lunchbox is a joint initiative between the Biochemical Society, the British Ecological Society, the Royal Society of Biology, Society of Experimental Biology and the Microbiology Society.
Read about the Royal Society of Biology's education work.