By Josephine Hellberg MRSB, DPhil physiology, anatomy and genetics student at the University of Oxford and science policy intern at the Royal Society of Biology.
Where do you see science in 30 years' time?
Scientific progress is relentless, working at the cutting-edge and pushing the frontiers of our understanding. Today we have access to technologies that were science-fiction in the 1980s, allowing us to do things like synthesise complete genomes, edit individual genes at will, and generate stem cells from mature tissue.
Across decades, scientific progress goes from cutting-edge to commonplace, with the magnitude of changes becoming evident only when you juxtapose past and present. For example, 30 years ago, there was no publicly available Internet. Today, we can't imagine life without it.
It was also 30 years ago that the Campaign for Science and Engineering (CaSE) was founded. Since then, the organisation has grown into a leading advocacy organisation for science and engineering in the UK – providing science with a voice in politics. On the occasion of the organisation's 30th anniversary, CaSE organised an event on shaping the future of science.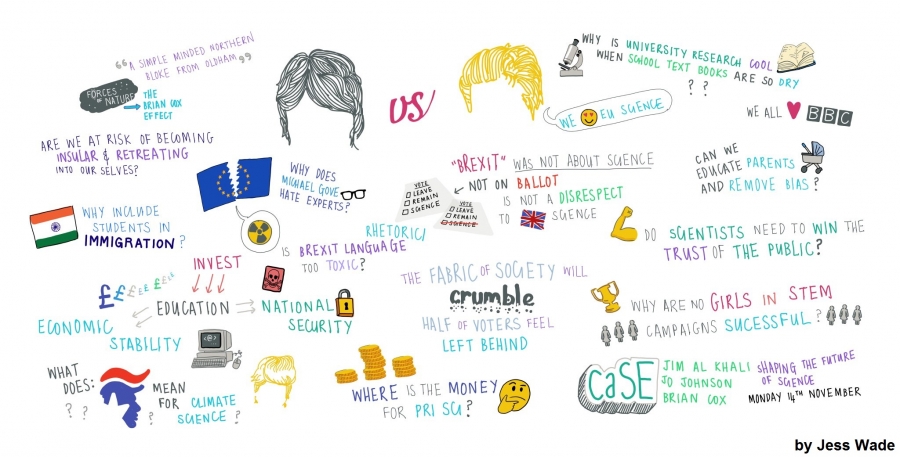 Dr Sarah Main, director of CaSE, chaired the first session, drawing on perspectives from both inside and outside science on the question: 'What will be the role of science and engineering over the next 30 years?'
The panellists were enthusiastic about what science has achieved to date, and had equally ambitious visions for what the next 30 years will bring.
Lynn Rothschild, adjunct professor of molecular biology, cell biology & biochemistry at Brown University (USA), was enthusiastic about the potential of synthetic biology in the next three decades, describing it as 'doing new things with biology'. Professor Rothschild, who also works for NASA, drew attention to the potential for synthetic biology to facilitate human activities in space – and possibly even the colonisation of other planets. These challenges can seem impossible at first, but can be made possible by applying biology to engineering problems; re-imagining biology as an emergent technology in its own right.
Phil Smith, chairman of Cisco UK and Ireland, offered a business perspective on the future of science. Thirty years ago marked the beginnings of the internet, when the world wide web was first populated. Similarly, scientific data collection is currently populating contemporary technology, heralding the beginning of a new data age. Although dystopian concerns emerge, Smith stressed that data is just another tool, and when used responsibly, large-scale data management could facilitate developments resulting in increased productivity and social health.
Indeed, Jonathan Haskel, professor of economics at Imperial College London, reminded us that scientific innovation has proven many predicted dystopias wrong. For example, modern agri-technology supports a much larger global population than previously thought possible.
Katie Ward is the author of the novel Girl Reading, and provided a non-scientist's perspective on the future of science. Having crowd-sourced suggestions, she shared a very positive message with the audience: although it sometimes appears people would like to see things like a cure for cancer and time-travel becoming a reality; the public is equally interested in scientists' coming up with technologies to promote world peace and to enable fellow human beings to treat one another with kindness and respect.
Without doubt, the take-home message of the evening was that science will bring us great things in the next 30 years. Like many of the technological innovations and scientific advances that have unexpectedly emerged since 1986; there will be many future innovations that we cannot yet imagine but that will be equally transformative.
Here's looking forward to another 30 years of productive, innovative, and ground-breaking science.