By Dr Laura Marshall MRCVS MRSB, science policy manager at the Royal Society of Biology
Kings College London (KCL) invited RSB representatives to its Guy's Campus recently, for a tour of their animal research facilities. This was one of a series of visits, organised through Understanding Animal Research, to help explain what happens at the facility to visitors of all ages and levels of understanding. The initiative shares the ethos of the Concordat on Openness on Animal Research. This is an agreement signed by 107 UK universities, charities, commercial companies, umbrella bodies and learned societies; pledging their commitment to be open with the public about animal research. Both KCL and the RSB are signatories and in December 2015, KCL won an award in the second year of the scheme.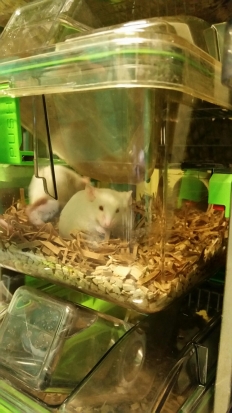 Our guide was Stephen Woodley, site manager for the Biological Services at Guy's Campus, which includes three animal research facilities. As the 2016 UK recipient of the AAALAC International Fellowship Award, an experienced Named Animal Care and Welfare Officer (NACWO) and IAT Registered Animal Technologist (RAnTech), Stephen was well placed to provide honest and informed answers to any question we posed. We found the research facilities within the Biological Services buildings to be ordered, clean and calm. The animal care staff, whilst welcoming, were busy, with an air of efficiency and evident pride in doing their work well.
Before entering each facility, we donned fresh personal protective gear (a combination of overshoes, hair net and coat), which equally aimed to protect the animals from any infectious agents carried by us.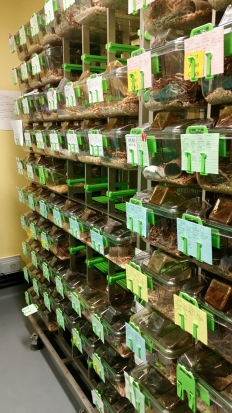 Our first stop was the mouse facility. Here, several rooms contained one or two moveable wall-length shelving units housing rows of self-contained transparent plastic cages (known as Individually Ventilated Cages). Mice are housed in groups within these, according to strict legal requirements. These regulations are wide ranging, covering aspects such as: humidity, temperature, bedding material and articles to provide stimulation (e.g. cardboard tubes). Separated from the housing rooms is an area for experimental procedures, where mice are anaesthetised for surgical procedures or humanely killed. A large proportion of the research carried out here is in the production of transgenic animals, through techniques such as CRISPR. For example, we were shown a group of mice which had been genetically engineered to develop type 1 diabetes. Studying the effects of new treatments on such animals often forms the first line in developing new medical technologies to treat similar human diseases.
The zebra fish facility is a feat of engineering. The main housing system for these little fish is of a roughly similar design to those for mice. A cavernous room contains racks of shelves lined with plastic, water-filled tanks. Again governed by strict regulations, this system is highly automated. Bar codes attached to each tank record detailed information on the fish inside; a robotic feeding arm moves along the racks throughout the day and water purification is constantly carried out utilising a complex system involving nitrous 'cleaning' bacteria. Recent studies on the zebra fish housed here have given new insight into how animals, such as ourselves, visualise the world around us.
Throughout our visit, the personnel in charge of the care of these animals appeared highly trained, well informed and passionate about the importance of their work and the animals in their care. Stephen suggested that this attitude is in part fostered by the ongoing movement for transparency in animal research. In his opinion, this drive for honesty and clarity has further encouraged technicians and researchers to take pride in maintaining, and communicating, the high standards of animal care and welfare they employ within an often controversial sector of UK research.
Find out more about research at King's College London.
Read about the work of the Animal Science Group, a Special Interest Group of the Royal Society of Biology.