By Professor Les Firbank FRSB, University of Leeds.
Professor Firbank is speaking on the expert panel at today's Come Dine With The Future event, organised by the RSB and NRN-LCEE in Cardiff.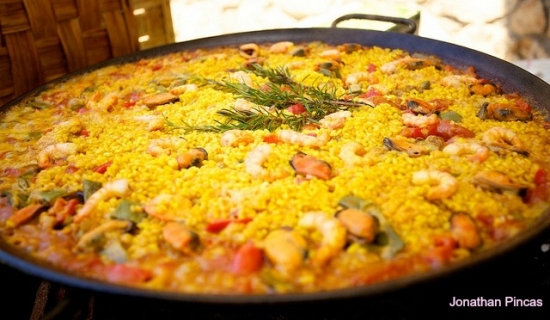 We know that our meals change over time; we are now offered a range of dishes far greater than at any time in history. For tonight's challenge of creating a 'future menu', I thought, let's not look too far ahead. In a few decades time dining will not have changed in the way it looks and tastes – but perhaps the way it's produced.
There's a lot of demand for food that is tasty, sustainable and ethically produced. So what might satisfy this demand at a time of climate change and increasing focus on local food production, whether for ethical reasons or to avoid post-Brexit tariffs?
Parma-style ham and olives for a starter perhaps? Of course, the ham would be more local, Camarthen ham, fed on insects, and the olives would come from one of the groves newly planted in southern England.
Crayfish paella? The American Signal crayfish is an alien species currently invading rivers around the UK, spelling peril to our native white-clawed crayfish. In a menu of the future this might be served with herbs and vegetables grown indoors near the restaurant under LED lighting. Perhaps the rice will be grown using recycled sewage?
For dessert we might enjoy a more international flavour. Papaya yoghurt boat with acai? The papaya could be genetically modified to be resistant to the ringspot virus, which is a major constraint to production around the tropics. The yoghurt would taste creamy but be low in fat, thanks to the miracle of high dynamic pressure processing. While acai is a 'superfood' product from the Amazon rain forest with the potential to support local communities. This could all be drizzled with Manuka honey- fully traceable of course, to help support New Zealand insects.
This menu of the future would be tasty, nutritious, and supported by a food industry that is innovative, international and seeking to achieve social, economic and environmental sustainability. I'll drink to that … with Yorkshire wine, of course.
Find out what the other panellists suggest as their menus of the future, and how the discussion unfolded, on our website after the event.